New Jersey teenager Dominic Esposito is the founder of a nonprofit organization that helps feed the hungry in his home state. When Dominic learned that recycling scrap metal could be a way to raise money, he got going and started Scrap Hunger, Inc. The money he raises helps fund food banks and other organizations that offer low-cost or free food options to families in need. He told us about his awesome effort to make a difference!
batteryPOP: How did you get the idea for Scrap Hunger?
Dominic: I got the idea for Scrap Hunger, Inc. after talking to residents and businesses in my community about an environmental project. I learned that many people were not properly recycling small scrap metal. Around the same time, I read that food pantries and shelters in New Jersey were having a difficult time keeping shelves stocked after Hurricane Sandy. I soon realized that I could collect unwanted scrap metal and take it to a local scrap yard, get money for it, and give the money to organizations that help feed the hungry in New Jersey.
batteryPOP: Can you explain what scrap metal is?
Dominic: Scrap metal is metal that is no longer wanted or useful that can be used to make other things. For example, scrap steel and aluminum can be melted down and recycled over and over.
batteryPOP: How can kids help on a local level?
Dominic: Kids can talk to their schools about organizing Scrap Hunger Drives. During a recent drive, a school district and community collected 880 keys and 2,057 pounds of scrap metal. Many people have scrap metal in their garages, sheds, basements, and yards. If someone is getting a new appliance or grill, they may be willing to donate the old one. Businesses may also be willing to donate scrap metal. An auto repair shop may have some scrap car parts. Scrap Hunger is happy to help every step of the way with Scrap Hunger Drives. Kids can also talk to family and friends about making scrap metal donations.
batteryPOP: How can kids who are not in NJ help?
Dominic: Hunger can be found in every county and corner of the United States. Kids who do not live in New Jersey could organize their own scrap metal drive to benefit the hungry in their communities.
batteryPOP: What kind of results have you seen since you started Scrap Hunger?
Dominic: Scrap Hunger has raised over $1,200 and collected more than 6,400 pounds of scrap metal since February. Scrap Hunger gave $1,000 to the FoodBank of Monmouth and Ocean Counties in August which provided 3,000 meals to feed the hungry.
batteryPOP: What would you love to see for the organization in the next couple of years?
Dominic: I would like to bring more awareness to Scrap Hunger. In this country, we generate so much scrap metal. I want people to think of Scrap Hunger before they toss their scrap metal to the curb. I would also like to partner with more businesses. My goal is to raise $10,000 before I complete high school which would provide 30,000 meals for the hungry. We all have the opportunity to make a difference, to help improve the lives of others, to Scrap Hunger.
batteryPOP: What's been your most rewarding experience in getting this organization started?
Dominic: I would have to say that working with the food bank in my area has been the most rewarding for me. I have had an opportunity to see exactly where this money goes and how it helps those that are struggling to put food on the table. It inspires me to help make Scrap Hunger the best that it can be. I have also met some amazing people along the way. It is nice to work with people who share my interest in helping the less fortunate and protecting the environment.
batteryPOP: If you could build anything out of scrap metal, what would it be?
Dominic: I would build a time machine so I could go back to prehistoric times and ride a dinosaur.
batteryPOP: Do you have any hidden talents?
Dominic: I can talk like Mickey Mouse. I can also play "Let It Go" from Frozen on the saxophone. My little sister loves that song.
batteryPOP: Do you listen to heavy metal music?
Dominic: I like rap music but if I did like heavy metal, I would form a band called the Twisted Scrappers.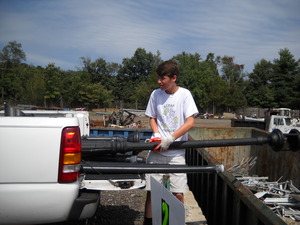 Thank you so much to Dominic for answering all our questions!