NEW THIS WEEK!
GINJAS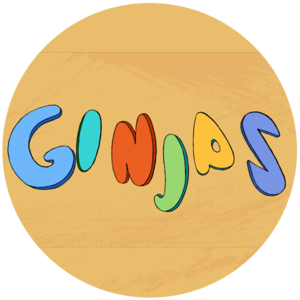 In the world of Ginjas, geometry takes on a life of its own. What's up might be down. What's straight might be curved. And what's logical…well, for those who study cartoon physics, Ginjas is positively Seussian. Expect the unexpected in this fresh animation from Portugal!
POPPING THIS WEEK!
LOLIROCK
The word is out...LoliRock is on batteryPOP! Find out why anime fans and music fans alike are buzzing like crazy over this hit new show. Iris and her bandmates are here to dazzle you with their singalong musical numbers. Filled with positivity, friendship and love, this incredible group of rock star magic girls will wow you with their music and style!
Experience the LoliRock explosion!
SHORT OF THE WEEK!
ONE MAN EIGHT CAMERAS
It's a mind-bending kaleidoscopic world! Watch what happens when a dancing man in a circular room explores his obsession with rotational symmetry. From Naren Wilks, British filmmaker and award-winning Berlin Music Video Awards artist, don't miss the short-film that gives new meaning to the term seeing tuple (or eight)!
FEAST YOUR EYES AND SYNCHRONIZE!
FROM OUR YOUTUBE CHANNEL!
batteryPOP SUPERHERO PLAYLIST
WHAM! BANG! POW! Our batteryPOP Superhero playlist is here to save the day! Featuring some of our favorite superhero videos, and butt-kicking heroics from Young Justice, Wonder Woman, and Amethyst, Princess of Gem World. Plus a Super Duper Super Hero, Guabaman, (the Spiderman parody en Español,) Kassandra, Goddess of AWESOME, and so much more!
UP, UP and AWAY to our YouTube Channel!
KIDS NEWS OF THE WEEK!
It's a new year, and batteryPOP is now part of Samsung Kids! The new batteryPOP mobile app features easy and exclusive access to our favorite web shows, short films, cartoons, music videos, STEM series and so much more!